AMAK Mining is a pioneer first private mining company in Saudi Arabia with clear vision and mission of company growth through exploration, discovery and development of mining projects which will add value to the vision 2030 aspiration.
AMAK Exploration look to extend the life of mine to than 20 years with resource developments at deeper levels, brownfield exploration and greenfield exploration but also through reconnaissance license evaluation and application of new exploration licenses in the Kingdom.
Currently, AMAK has 6 exploration licenses with a total area of 548.86 km² on top of the operating Al Masane Cu-Zn-Au-Ag and Guyan Gold Mine licenses:  AMAK continues to apply for new exploration licenses for gold and base minerals, associated minerals, and industrial minerals and is focusing on the Arabian Shield within the Kingdom.
The Brownfield Exploration focus on the mine site orebody extensions & satellite deposits within economic transport distance of the processing plant stationed at Al Masane and Guyan Mines. These opportunities create flexibility to increase mine output with quicker payback and improve the operational flexibility in mine planning but also mitigate increased resource depletion due to capacity expansions at existing mines like the Moyeath processing plant.
AMAK planned and potential exploration and development activities include the development of the Moyeath orebody into a standalone producing mine with it process plant additional milling capacity of 450ktpa scheduled to start in Q2, 2023, the Moyeath ore is Zinc rich with different metallurgical recovery compared to Saadah and Al Houra.
Brownfield Exploration include the extension of the Guyan Mine life of mine through further deeps extension and exploration within the area covered by the Guyan Exploration and Mining License, exploration of new copper and zinc ore bodies within the area covered by the Al Masane Mining License and adjacent new exploration licenses.
The greenfield exploration highlights the first mover strategic requirements for AMAK as a pioneer private mining company in Saudi Arabia to go for top quality opportunities at a regional scale.
AMAK is exploring for Nickel and related minerals in the Qatan Exploration License within Najran, Gold, Copper, and related minerals in the four Antaq Exploration Licenses in Riyadh. AMAK have also active 12 reconnaissance licenses covering all the mineral potential area within the Arabian Shield. It should be noted that reconnaissance projects undertaken by the Company are considered among the important new projects of the Company for evaluation of several minerals (gold, lead, zinc, silver, copper, nickel, iron ore and Industrial minerals) in various regions of the Kingdom, which include Riyadh, Hail, Al-Jawf, Al-Baha, Najran, Asir, Tabuk, Al-Qassim, the northern borders, Medina, Jizan and Makkah. It had also applied for numerous exploration licenses for gold and base metals and industrial minerals within the Arabian Shield.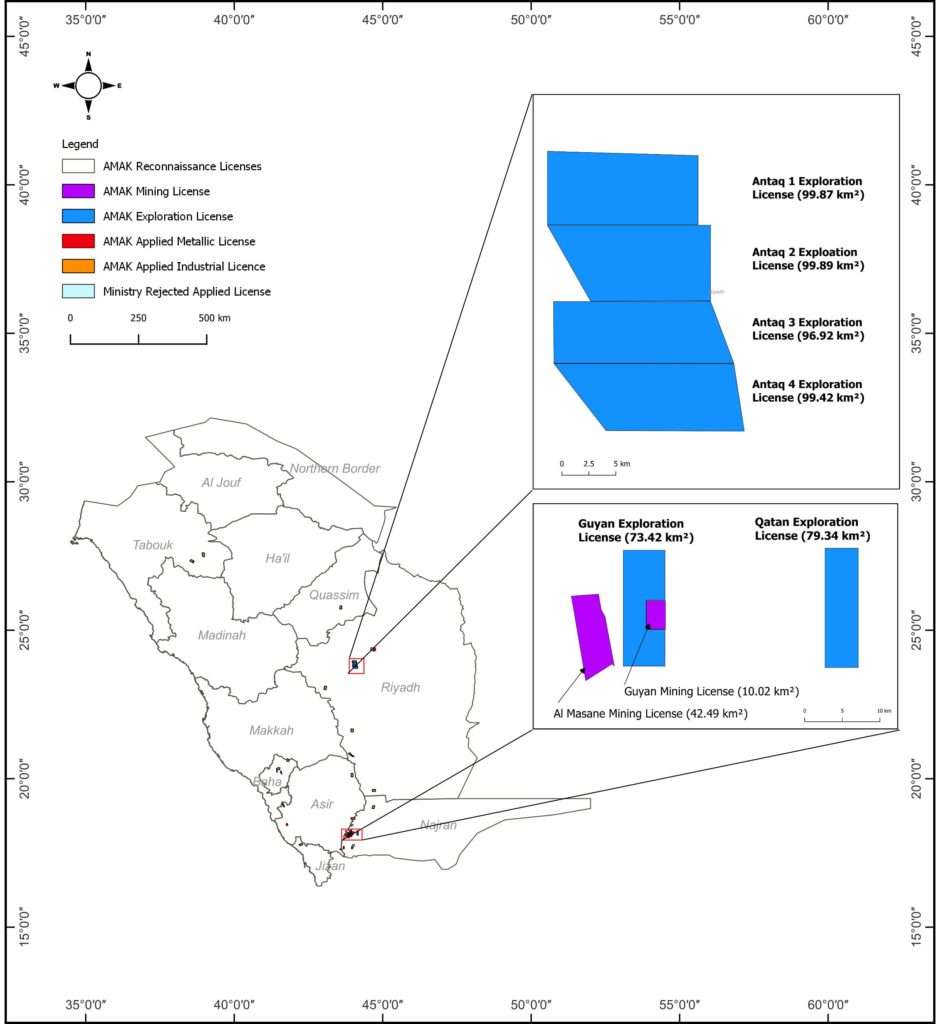 AMAK HAS SO FAR PROCESSED MORE THAN 5 MILLION TONS OF ORE SINCE ITS INCEPTION AND HAS EXCAVATED MORE THAN 40 KMS OF TUNNELS UNDERGROUND.
Its production and drilling capacity is increasing every year, by virtue of using the best available technologies and professional practices, and management of potential risks prior to occurrence. The company concentrates on a high level of community and geographical environmental protection and development and maintaining its peculiarities, utilizing world class social responsibility governance practices globally followed in this regard.
EXPLORATION AND BUSINESS DEVELOPMENT